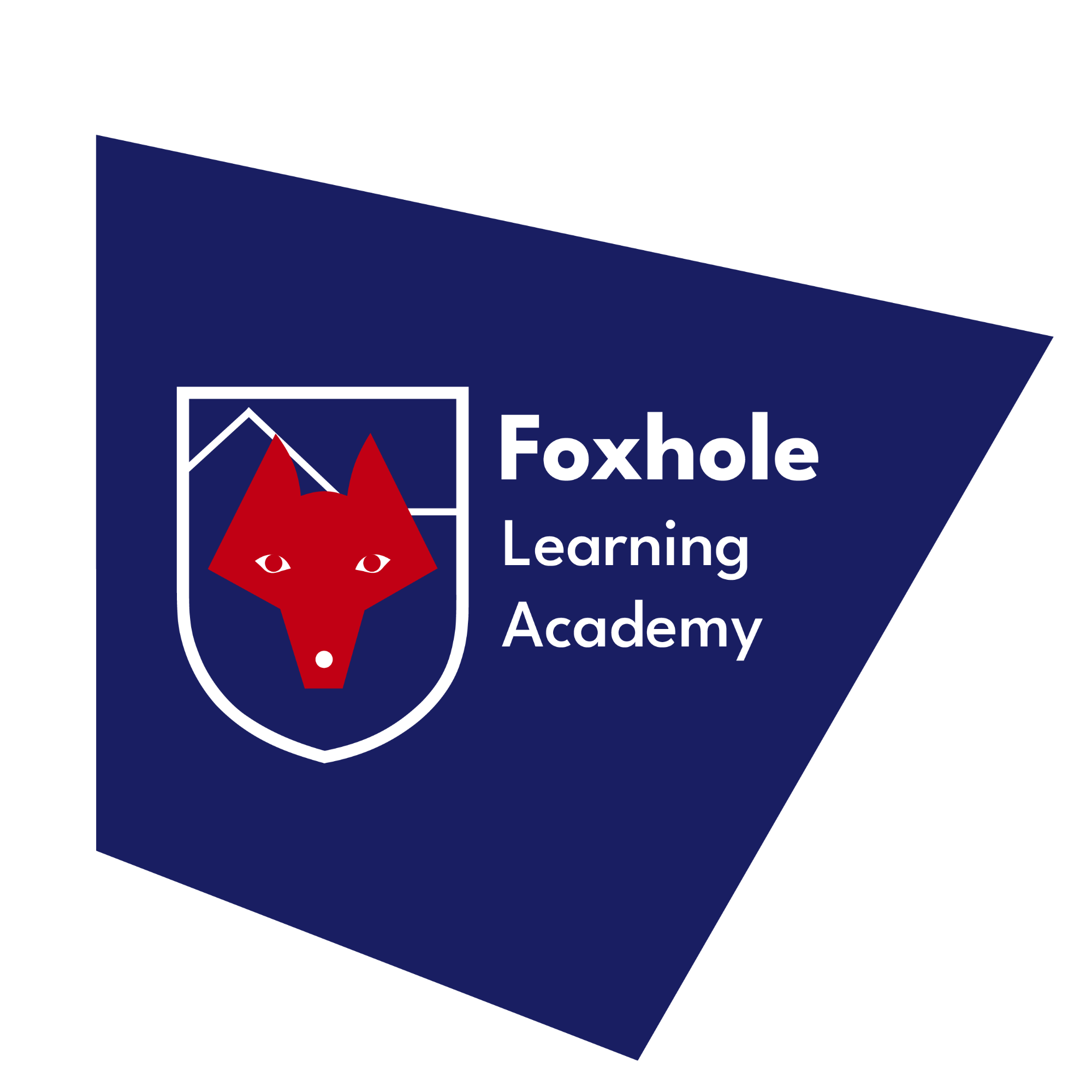 Our Curriculum Approach
"Learning is not attained by chance, it must be sought for with ardor and attended to with diligence."
Abigail Adams (Wife of John Adams, 2nd president of the United States)
Intent
At Foxhole Learning Academy, building on the National Curriculum our curriculum intends to:
Provide a broad and balanced education for all pupils that's coherently planned and sequenced towards cumulatively sufficient knowledge for skills and future learning and employment.
Enable pupils to develop knowledge, understand concepts and acquire skills, and be able to choose and apply these in relevant situations.
Support pupils' spiritual, moral, social and cultural development.
Support pupils' physical development and responsibility for their own health, and enable them to be active.
Promote a positive attitude towards learning.
Ensure equal access to learning for all pupils, with high expectations for every pupil and appropriate levels of challenge and support.
Have a high ambition and raise aspirations for all children.
Equip pupils with the knowledge and cultural capital they need to succeed in life.
Develop children as responsible citizens who value diversity and understand how they can make a difference to the school community and the wider world.
Help children to understand and celebrate the distinctive quality of living and learning in Cornwall in the twenty-first century, whilst fostering an understanding of Cornwall's history and it's place in the wider world.
Our curriculum intent is underpinned and driven by our whole school values which we refer to as 'The Foxhole Five'.
Personal Development
At Foxhole Learning Academy, Personal Development is interweaved in all that we do. Our core values, 'The Foxhole Five' have been developed in consultation with our whole school community and underpin this work.
We recognise that much work is done to support Personal Development through our rich curriculum offer in subjects such as Religious Education, PSHE, Computing, PE and through our assemblies. At Foxhole Learning Academy we use opportunities in the wider curriculum areas to enhance personal development. Outdoor learning is a strength of our school and in addition to opportunities for children to be scientists and geographers, we use this as an opportunity to develop cooperation, confidence and to embrace the outdoors and promote physical activity.
At Foxhole Learning academy we strive to extend opportunities beyond the academic curriculum and broaden the Personal Development of all pupils. These opportunities are carefully considered and sequenced into our whole school offer to ensure that they are meaningful and relevant to the needs of our children.
Our Votes for Schools assembly and following up in class provides our children with the chance to speak out and discuss challenging current topics issues that matter to them. This improves oracy, confidence and critical thinking and gives our children the opportunity to vote on topics and have their voices heard in a meaningful and impactful way.
Our children develop knowledge and understanding of the different ways that they can keep themselves safe happy and healthy both within and outside of our school, preparing them as responsible, confident citizens.
Citizenship is promoted and celebrated in our school. Citizen's of the week are chosen from each class and the reasons for this are shared with the whole school in our celebration assembly. Citizen's of the week get to lead their class line, they receive the golden book bag and certificate to takes home and they get to have a special lunch with the headteacher.
We provide opportunities to widen children's experiences such as the theatre, poetry events, sailing and the children's university.
We consider charities, fundraising and awareness raising events, thinking about what we can do to make our community and the world we live in a better place.
Spoken Language
At Foxhole Learning Academy, we recognise the importance of developing children's competence in spoken language and listening. We aim to develop these skills not only through the English curriculum but throughout all subjects and in a range of contexts. We provide opportunities for children to work in groups of different sizes – in pairs, small groups, large groups and as a whole class. From EYFS and moving through our school, children learn how to take turns and when and how to participate constructively in conversations and debates.
To view more information about the subjects in our curriculum, please click here.
Please click here to view the Equalities Statement, Accessibility Plan, Racial Equality Policy and the Equality and Diversity Policy. Please also refer to the Everyone's Included pages of the website where you can find an information report detailing how our school identifies, assesses, and makes provision for children with Special Educational Needs and disabilities.
If you would like to find out more information about the curriculum at Foxhole Learning Academy then please contact the school office.
.